With Just Services, you can have the kitchen of your dreams
As if this was not enough, our highly qualified team can transform your kitchen with so much quality that its market value will for sure increase!
Hire us to improve your house to the standard it deserves to be with our 5 star kitchen remodeling services!
We had Alan and his team replace our kitchen tile floor and our backsplash. We were very happy with how both turned out and Alan's communication during the entire process was great! We would recommend them for any remodeling project.
Nikki Kitchens
2022-05-05
Alan and company were very professional. Alan had so much patience with me when picking out my cabinets and countertops. Everything was top notch. I would definitely recommend their services. GREAT JOB guys!!
I highly recommend this company, Alan and his team are totally honest and trustworthy, they have already done several projects for me and I have never had any problems, fair price and trust. That's what matters most today. I will definitely hire them for future projects and I always recommend them to friends.
Dr. Scott perlman
2022-04-13
They where extremely thorough, courteous, clean and on time but most of all the paint came out amazing. The doors and walls look great and did a wonderful job on all of our moldings around the house. Very happy and extremely satisfied, for sure we will be using them in the future !! Dr. Scott
Alan and his team were very professional prompt and finished the job on time. Highly recommend!
Alan and his team spray painted a custom shiplap ceiling in our master bathroom. The finish coat was perfect. Above all this, I was very happy with how well they sealed off the bathroom to protect our home from any damage.
Alan and his team were absolutely great. We've used them on multiple properties for interior painting and cabinet work. Great quality, always on time and super careful. I highly recommend them, and I always look to Alan when we need anything done.
The service was made with excellence on my kitchen cabinets. They look brand new with a prime paint quality. The customer service was beyond average, quick responses, clear communication and very respectful approach. I would definitely recommend this company for any who are seeking remodeling basically any cabinets.
It is a pleasure to provide comments about Allen and his Team. Allen was recommended to us. His Team updated our house by 25 years; especially the kitchen cabinets and walls. Allen's estimate was realistic and very little product remaining after work completion. Their work ethics was always on time, neat and consistent. We have had numerous projects completed; but Allen's work is by far the smartest decision we made. I highly recommend Allen for both interior painting and kitchrn cabinet upgrades.
Daniel Sebastiany
2022-02-28
Excellent customer service, friendly, communicative, and fair price. They started and finished the service as scheduled.
Your dream kitchen can come true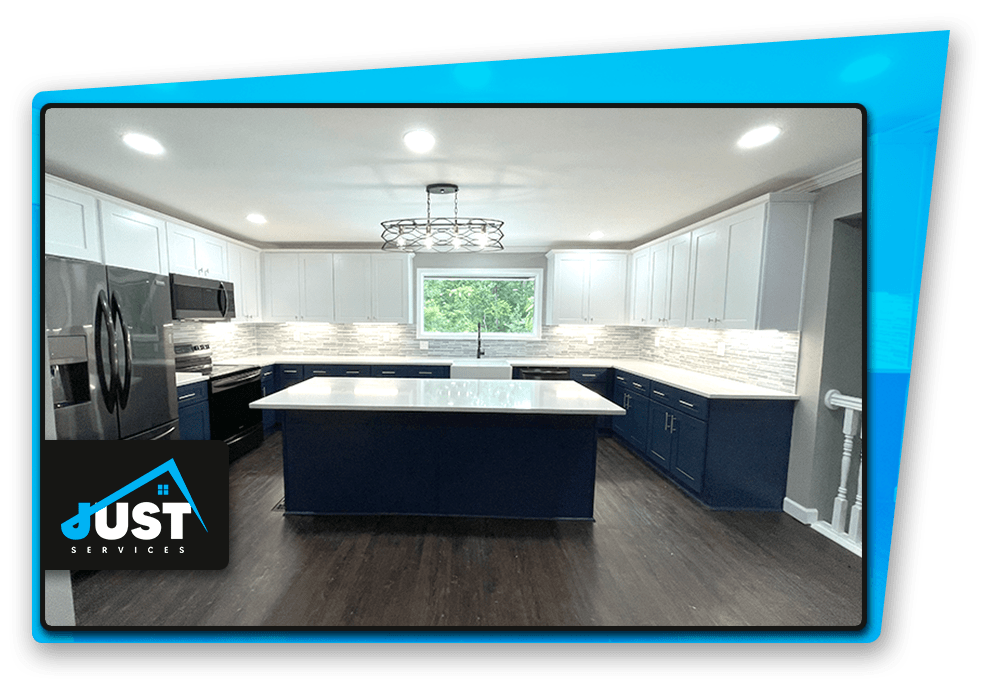 We can satisfy your expectations regarding your project regardless of what it may be: remodeling your old kitchen or building a new one. Our professionals have more than 6 years of experience and swiftly work with efficiency to deliver the project within the deadline.

All of this dedication to your project allows us to raise your house market value – making a possible sale in the future easier.
Are you looking for trustworthy professionals to remodel your kitchen?
We have listed 5 reasons for you to hire us:
Every process is simple with us at Just Services: we help you to transform your dream into reality by adding color and beauty to your world. We use high quality products and work with you to capture your vision and intention in order to make you satisfied. We also offer excellent customer service and fair pricing.